William Hill free bets explained
2 min read
William Hill free bets explained
On occasion, William Hill will place adverts online and in the National Press offering new customers the opportunity to open an account, place a bet and earn a free bet in return. These adverts will carry details of a 'promo code' that the user must enter as part of the account opening procedure.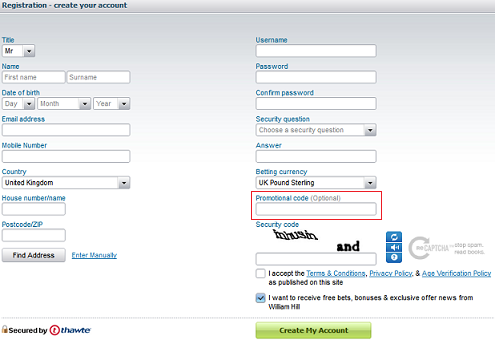 NOTE
Having successfully created your account and entered an accurate promo code, your Free Bet Token will be credited to you once your first qualifying bet has been settled. Unless otherwise stated, you must place your qualifying bet on the date you register your account.
How do I check that my free bet has been credited to my account?
If you have responded to a specific William Hill promotion and satisfied the qualification criteria, a free bet token will be credited to your account. This is visible to logged in users via the 'Free Bets & Bonuses' section of 'My Account'.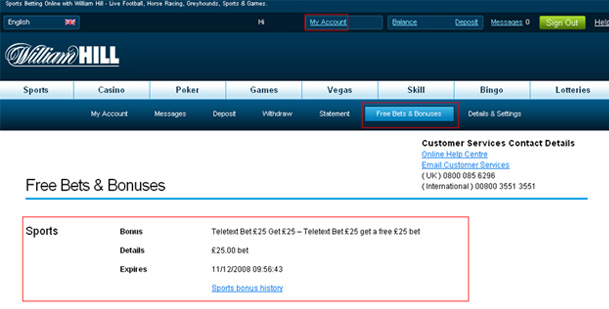 Bonus – details the promotion specific details
Details – represents the currency and value of the free bet token
Expires – is the date and time that the free bet token expires (i.e. must be redeemed by this time)
How do I redeem a free bet?
If a free bet token has been credited to your account, the option to redeem it will appear at the bottom of your bet slip the next time you add a selection to the bet slip.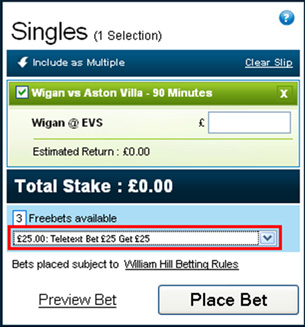 Using the drop down menu select the free bet token and place your bet as normal. Your Free Bet Token will then automatically be used to pay, or part pay, for your requested bet.
Free Bet Redemption Rules
Free Bet Tokens can be used to pay for sportsbook bets only (not including pool bets, e.g. US Racing).
Please note that free bet tokens are non-refundable. Free Bet stake not included in any winnings. The Estimated Return on the Bet Slip indicates returns with stake.
A free bet token cannot be partially redeemed. If you attempt to place a bet for lesser total stake than the value of your free bet token, you will not receive any further free bet tokens.
Free Bet Tokens are valid for 7 days unless otherwise stated in the Expiry section within the 'Free Bet & Bonus' details of 'My Account'.
Free bets cannot be redeemed on any other online product (Poker, Casino, Vegas, Live Casino, Bingo, Skill, Games, Financials).
Redeemed free bets will not qualify for any future free bets. Qualifying bets must be placed from the customer funded balance.
Redeemed free bets will not count toward qualification to view streamed events.