Wild Witches is a 5 reel, 20 payline video slot game. You can play the game with as little as $0.01 or as much as $80.00 per spin. The slot machine accepts up to 80 coins per spin, and the maximum jackpot is 10,000 coins. The game uses NetEnt software. Wild Witches is available at 6 of our recommended online casinos.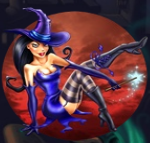 Wild Witches is a casino video slot game from Net Entertainment.
Graphically it's great, the gameplay isn't to everyone's taste, tending to be high variance (you can play for a long time between wins but when they come they tend to be higher).
If you manage to hit the free spins on this slot then you're usually cackling all the way to the bank.
It does tend to go for a long time between free spins though – unless I've just been very unlucky on lots of occasions.
Graphically it's excellent, those *itches are HOT!
It's a fun game, it's decent to play but it just doesn't hook me personally. I still pop back to it now and again though.