At BreakoutPvP shes make it easy for you to enter competitive eSport
games for cash prizes and leaderboard positions against opposition of similar ability!

BreakoutPvP will be rapidly expanding the number of games available on the site. Alongside CS:GO, BreakoutPvP will soon host Dota2, Minecraft and LoL. Many more games are in the pipeline so stay tuned!
 Search the lobby to find a gaming contest which you want to compete in! When a contest reaches capacity you've got the ability to decide if you still want to compete against your opposition based on their respective BreakoutPvP rankings, statistics and feedback scores.
 Communicate Communicate with any other player on Breakout PvP instantly via our dedicated instant messaging and mailing system. Add your opposition to your "favorite gamers" list so that you can quickly and repeatedly play against quality opposition time and time again!.
 Lock-in Our online process makes it easy for you to enter contests. You'll also be able to see in real time who else is joining all the contests that you've selected.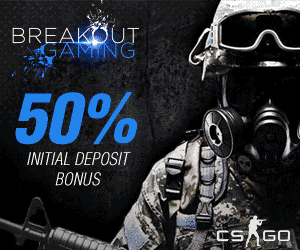 Earn a 50% New Year Bonus on Your 1st Deposit!
Breakout PvP is pleased to offer you a special 50% bonus on your first deposit through the month of January.
BreakoutPvP invites you to Compete & Win in heads-up or multiplayer contests in both CS:GO & Minecraft!  You play on secure servers with instant results, and you can play for fun, or real money using BRK, an established digital currency.
To claim your bonus, simply complete your first deposit and then email support@breakoutpvp.com with your username, and we'll take care of the rest.
Please note that deposit bonuses come with play-through requirements.  Refer to the terms & conditions below prior to requesting a bonus.

Terms & Conditions:
The PvP Holiday Promotion starts on January 1, 2017 and ends at midnight, UTC, on January 31, 2017
This promotion is open to all new and existing Breakout PvP members
The 50% initial deposit bonus is available on your first deposit only, and will provide you with a total bonus of up to 1,000 BRK
All bonus awards are optional and must be requested by emailing support@breakoutpvp.com with your username prior to wagering more than 10% of your deposit amount.
Accepted bonuses, and their associated deposit amounts, are subject to a 5 times play-through prior t to any withdrawal being allowed.
Example: Deposit 500 BRK and receive a 100% bonus on request of an additional 500 BRK.  Prior to any withdrawal request a minimum of 5,000 BRK must be wagered in contests
All BRK bonuses will be added to your player account within 24 hours of request.
Breakout PvP reserves the right to cancel, change or extend this promotion at any time.